Tea And Cake With Merillis Rinne
I had lovely visitors coming along to my home studio i had that time. We were talking about art and my journey...
Thank you Lauren!
Tea And Cake With Merillis Rinne
Meriliis Rinnie, alais Meru, has been living in London for over 4 years after moving from her mother country, Estonia, and we were privileged enough to be invited to her home and studio to have a chat about her stunning art work oven an intricately hand painted mug of herbal tea!
Upon entering Meriliis' home we were greeted by her bold and striking art works which filled the whole room, really making it an uplifting place to be. (Very jealous of her house mates who are able to bask in its beauty every day!)
Witnessing Meru's habitat made it very clear she is a woman with a penchant for bright and beautiful things. This, Meru explained, developed from her childhood. Growing up in Estonia at the end of the Soviet Union, Meru spoke about a lack of beautiful and colourful things, and how she began to despise ugliness, referencing the "ugly" toys and a particular memory she recalled of being fifteen and trying her first ever banana. This oppressed background taught Meru from a very young age that she was different.
In order to be creative, one must break the rules and stand out from the masses – some might say rebellious – and Meru would agree. There is an echo of rebellion laced through Meru's past, art work and no doubt future endeavours.
Meru's larger than life canvases are adorned with layers and layers of paint, and like a metaphor of her paintings, Meru also has many layers which together create a person as interesting and interpretive as her paintings. One of the first layers to Meru would be her background in law, which could come as quite a surprise to some, how on earth could you relate art and law? …
Studying law, Meru explained, first of all made her aware of her true calling, art! It has also influenced her art work – her radiant art is not just as simple and naive as the pretty picture may originally suggest, they all bare a deeper meaning of social phycology and the paradoxes we can draw from society today. This was all inspired by law, especially the paradoxes, as Meru stated "without law there would be no crime, and without crime, there would be no law".
When questioned about her inspirations, Meru told us some of her influence comes from people and experiences. Her works on "Robots" have a really interesting message that I think most of us could affiliate with in today's world, focusing on the "rat race", social pressures and how we can tend to overlook the beautiful things in life sometimes. Meru's other influences stem from beauty, her paintings of unicorns, "bubble trees", angels and butterflies may seem very light hearted and fluffy, but Meru's love for beauty was also found through poetry and the new romantics, "All art is quite useless" – she referenced this quote by Oscar Wilde to explain her paintings – she told us, "the useless things are the most beautiful" by this, she continued to explain, Wilde meant that the useless beautiful things are for example, love, friendship and indeed art - things we can get the most simple pleasures from. There is nothing wrong with living in a dream world, but Meru spoke of getting the balance between reality and dreams just right.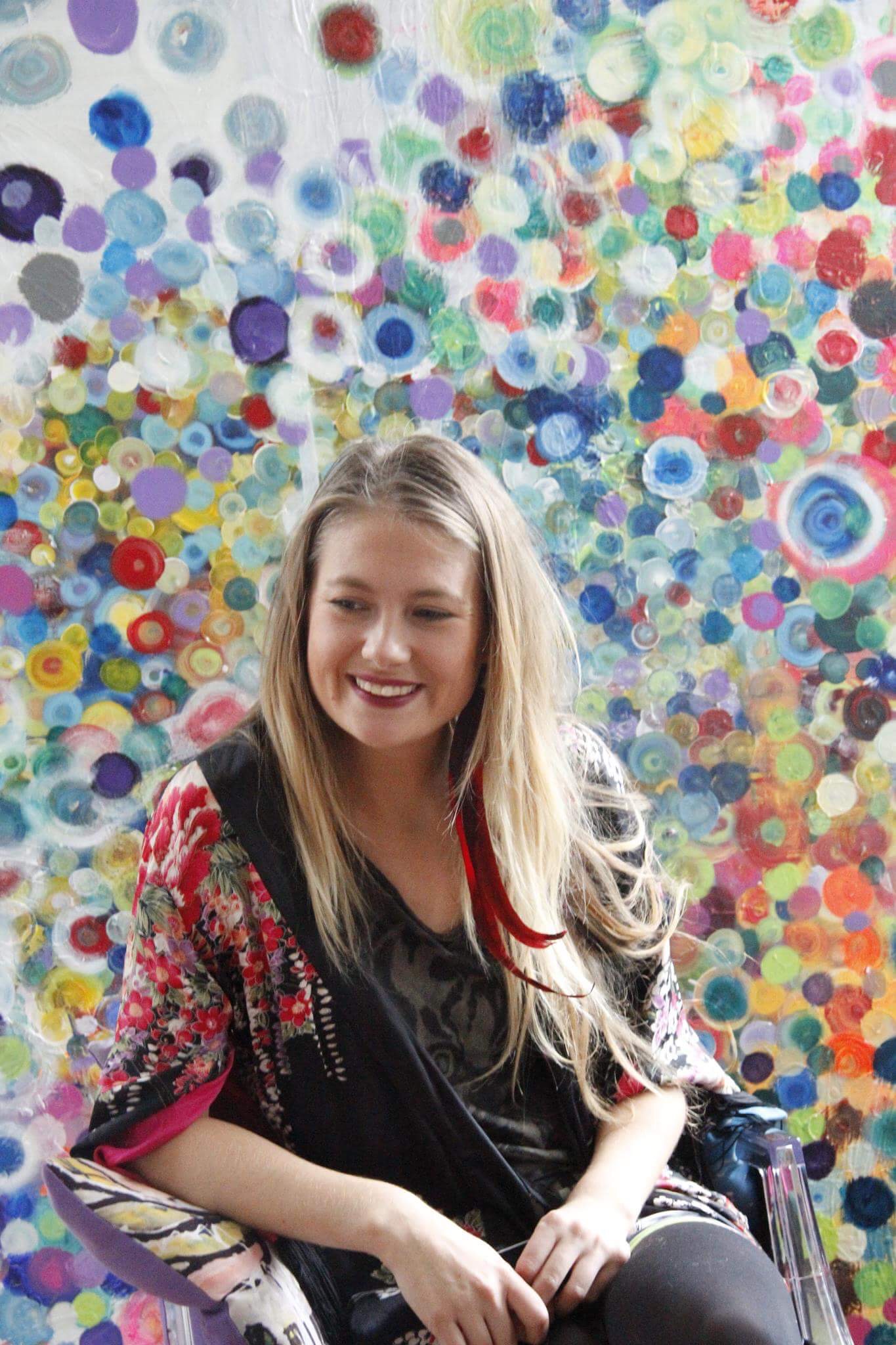 Her "femmes" series would at first glance also be seen to depict the beauty of the female form, but these were in fact created to question how males look at the female form, and how even they are unaware of how they view it, another brilliant paradox!. Meru described to us how men often view these pieces, and how they usually assume the figures are personal, Meru seemed to enjoy this as it was almost as if she was tricking the men, and making them second guess themselves when the question was posed to them, "why do you think it's me? Just because I am a woman painting women?"
Meriliis Rinnie has an obvious passion for life, and making it more beautiful and interesting for anyone fortunate enough to live around her art. It is a refreshing change to come across an artist who does not forget about creating something the eye can relish in, as well as making the mind tick and question. What else makes her so refreshing and successful? She is an artist without an ego, Meru obviously enjoys her own art but she makes a strong point of catering to her audiences also. A big believer in giving back, Meru said " My art needs others, so I help others" – she partly does this by helping fund raising efforts for children's hospitals in Estonia by creating art work for charity auctions etcetera, as she feels her art work has more emotional value over money.