Nothing is more powerful than talented people doing what they love
Meriliis Rinne (1985) is an Estonian artist living and working in UK. She first studied law at the University of Tartu, which deepened her interest in paradoxes and social pressure, i.e., topics that she attempts to solve now as a painter. Her main medium is painting but she currently explores sculpture, film, photography and performance.
Her work is been exhibited in UK and internationally including 57th Venice Biennale and Frieze art fair events in London. She is been part of the TEDx Talks in UK 2014.
Her art is reflective of the world today — there is diversity of material, subject and form using larger contextual frameworks such as personal or cultural identity and questions how to be artist, woman and human on a same time.

Meriliis talks about feminism and paints female figures with a unique disposition as a female painter whilst also challenging to raise the question about the way males look at the female form and how they are unaware of the way they actually view it. Within several different themes is she also paints series of robots which are critical to consumerism.
Her eclectic series of works are distinguished by the very lack of a uniformed organising principle, maybe because of her background having grown up at the end of the soviet era which was itself really uniformed matchbox environment.
Artist favours acrylic paints and oils but also using what she can from the environment to recycle - from newspapers or burlap coffee bags to electronic pieces to make art.
From growing up at the end of the Soviet era in Estonia there is a memory that Meriliis recalls from being a child of how she began to despise ugliness, from having same toys, same clothes, and even same furniture at home, cars, garden, holidays as every one else around her. She did not realise back then that everything, even the toy designs were controlled and certified with communist party at Soviet Union. This oppressed and uniformed background taught Meriliis from very young age that she is different. Lack of colours around her felt wrong, she could not accept this as truth. She discovered it was dangerous to stand out but possible to rebel and be individual through beauty and art. She began to draw her own toys and soon to many kids in neighbourhood...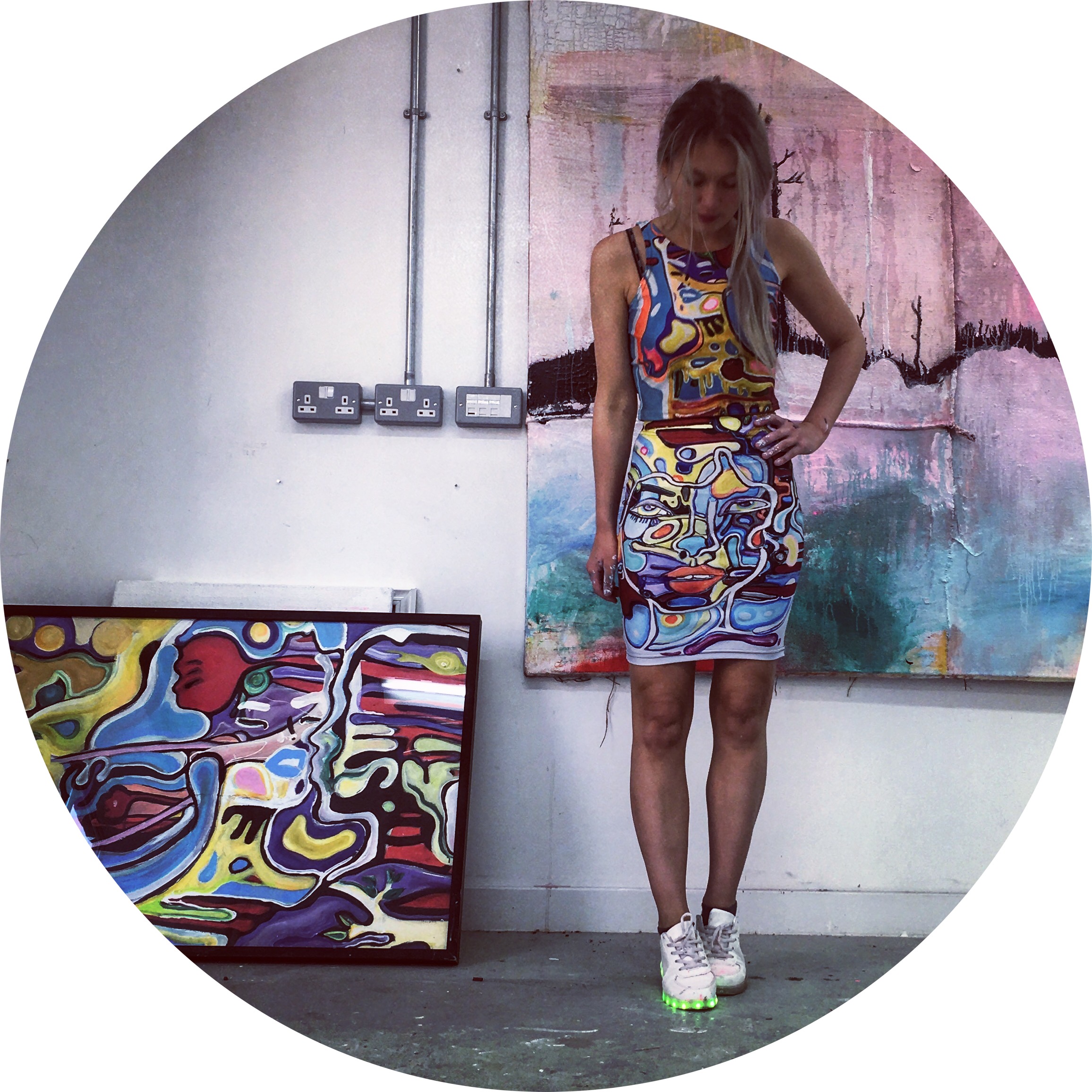 A big believer in giving back, –
she partly does this by helping fund raising efforts for children's hospitals in Estonia by creating art work for charity auctions, as she feels that art work has more
emotional value over money.